Program for the gala dinner of the 10th of September
Caution: It is no longer possible to register to the Gala diner, but for 15€/person it is possible to come to the concert
We propose you to share a convivial and musical evening on the Wednesday 10th of September, to continue exchanges in a relaxed and cheerful atmosphere. This private evening for WoodSciCraft participants will start at 19pm in a «bistro» / restaurant / pub / concert hall which also holds regular arts exhibitions: «La Laiterie des Beaux Arts» in Montpellier. You can find further information about this place at: http://lalaiteriebeauxarts.over-blog.com/.
The program of the evening will be:
7pm: Pre-dinner cocktail:

kir (white wine with blackurrant liquor)

7:30 pm: 4 course-meal (including a bottle of wine for 4)

Starter / First course:

Tapas (bread with tomato and ham, garlic mayonnaise and crunchy vegetable biscuit)

Courgette and goat cheese pie

Main course:

Confit of duck with mashed potatoes

Lamb tajine with prunes and almonds

Cheese Mixed desserts:

(fresh fruit salad, macaroon and Profiterole: vanilla ice-cream in a choux bun with melted chocolate)

Coffee

10pm: Concert of traditional southern French music by Tornamai (see below for the details)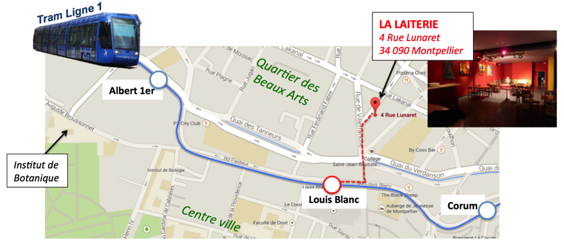 How to come to the gala dinner?
Please note that if you are registered for the whole week (4 days), the gala dinner and the technical visit are included in the price. So you do not have to pay the additional fee on the online platform Azur Colloque (see http://woodscicraft2014.lmgc.univ-montp2.fr/registration.html). However you need to tell us if you want or not to come to the gala dinner and/or the technical visit. It is also possible to come accompanied to the gala dinner. In this case you need to use the D category on the payment platform Azur Colloque. In all cases you need to be registered to diner (50€/person if you are not registered for the full week). For the diner, the seats are limited to 70 persons. If it is full you still can come but only for the concert (at 10pm). You just have to send us an email at the address woodscicraft2014@univ-montp2.fr. The fee for the concert is 15€/person (including a free drink).
Concert by Tornamai:
Tornamai is a band of traditional music from south of France. They play and sing the dancing music from the area of «Cévennes» (mountain range north of Montpellier). These 4 musicians are involved in the rediscovery and interpretation of the local folk tradition of dancing and singing music (often in Occitan language). The band likes to create space for a collective practice and complicity between instrumentalists, singers and dancers. You can listen to their music at: http://tornamai.wordpress.com/2012/10/18/tornamai/
Band:
Basile Brémaud (singing, violin, feet)
Clément Gauthier (singing, French bagpipes «chabrette» and «boudègue», stringed percussion «tambourin à cordes»)
Mana Serrano (singing, violin)
Nicolas Roche (mandolin, mandola, banjo, kartals, singing)